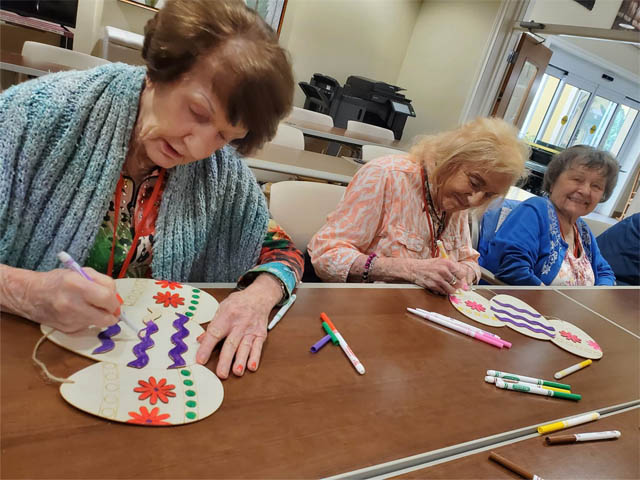 Incorporating fun activities that engage physical and cognitive health into daily routines is important, especially for seniors with Alzheimer's and Dementia. Whether you are caring for your loved one at home or have found them the perfect memory care community, here are some activities we incorporate which can be most effective and beneficial.
Memory Care Residents at Aravilla Sarasota can:
exercise their creativity with painting and crafting sessions
keep themselves limber with fitness and yoga
play bingo, crossword puzzles, word games and trivia
dance and sing along to our daily music sessions
feed the swans and walk in our lush gardens
enjoy mystery trips out about town
You may not be able to create a daily routine for your loved one at home filled with as many stimulating activities, but here are three simple ideas to help you create a nice at-home leisure program for your senior loved one:
Games and Puzzles
Crossword and jigsaw puzzles help reduce stress, boost confidence and keep the problem-solving brain active, making them great activities for seniors with early to mid-stage dementia. Online or electronic games can be even more versatile, and there are many free, simple brain teasing computer games like Treasure Hunt, Daily Word Search, Checkers, Solitaire, just to name a few.
Other fun games you could include:
Bingo: This fun activity can be easily adapted for people with memory issues, stimulating the thought process,  boosting memory, and uplifting their spirits.
Card matching games: Matching images of birds, flowers or pictures of friends and family can help boost memory and is a fun way to spend time together.
Pattern blocks and boards: Cut out different shapes using heavy stock paper in various colors and patterns, then let your senior create fun pictures, make free-form shapes and even trace them on paper. This activity supports motor skills and muscle memory, stimulates creativity, and brings joy.
Make a Memory Box
Making a memory box can help seniors with memory disorders feel connected to their past experiences and provide an opportunity for some lovely storytelling. Get any box and fill it with objects that are connected to a memory, something they have used at home, for work, in sports, for hobbies, for travel or anything else that is connected to a memory or special time in their life. Just make sure to use objects that are safe to handle. Decorating the box together can also be a great pastime.
Play Music and Showtunes
Play soundtracks from your loved ones' favorite musicals or albums from their youth, encourage them to sing and dance along. Online music streaming services make it simple to keep their favorite music playing all the time. Encourage storytelling when a song sparks a memory or joyful response.
Want to know more about premier memory care for seniors?
We'll be happy to walk you through our daily calendar of stimulating facilitated activities to keep your loved one engaged and experiencing joy in the moment. Call 941.413.5600 or click here to schedule a tour.