Hawaiian Luau
Aloha! Aravilla residents had a magnificent Luau last month. The dining room and atrium were decorated with the help of our residents. We had tall palm trees, bright colored balloons, pineapple center pieces and many other decorations for this festivity. My favorite party prop was the rolling tiki bar. It carried delicious grapefruit cocktails.
All of the residents wore beautiful flowered leis around their necks. Some of the ladies also wore their sun hats to the party. Margie's outfit was a crowd favorite, she went all out and wore a coconut top with a grass skirt.
It's not a party with out great food, and this party was no exception. Diana made the most delicious pineapple upside down cupcakes. They were the perfect size. They each had chunks of pineapples and a cherries with brown sugar on top. We washed them down with a secret recipe Tropical Pineapple punch that was served in cups with umbrella straws.
As for music, our old pal Barry was here with all of our favorites. He played typical Hawaiian luau songs like "Tiny Bubbles" by Don Ho. We enjoyed singing, dancing and tapping our toes to all his tunes, The music made us feel like we were on a Hawaiian vacation. Be sure to read the calendar and look out for our next big party.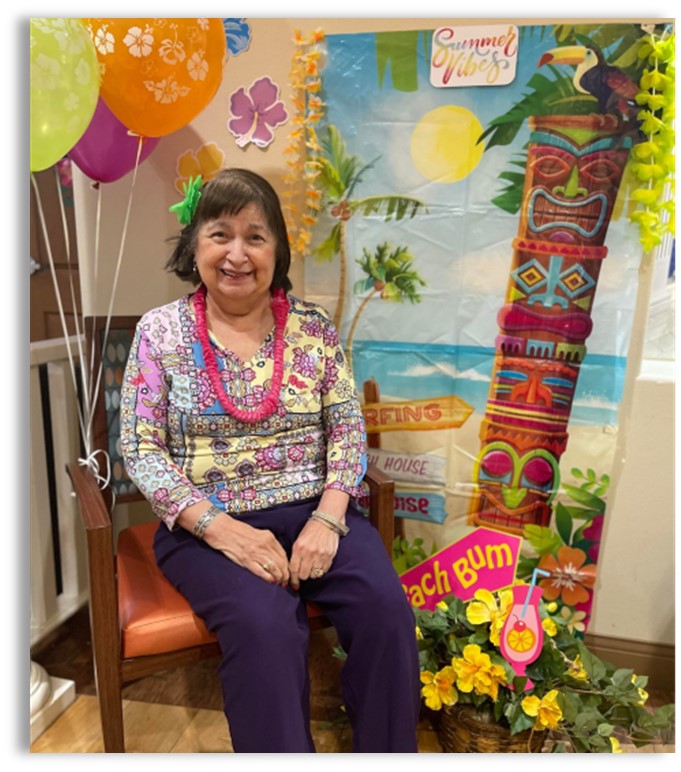 Rosalie was the first guest to arrive at the party.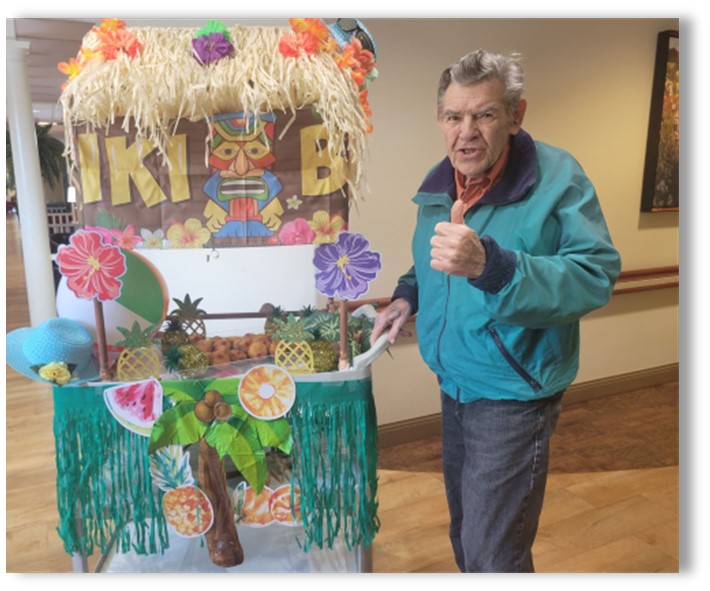 Aloha from Tom at the Luau!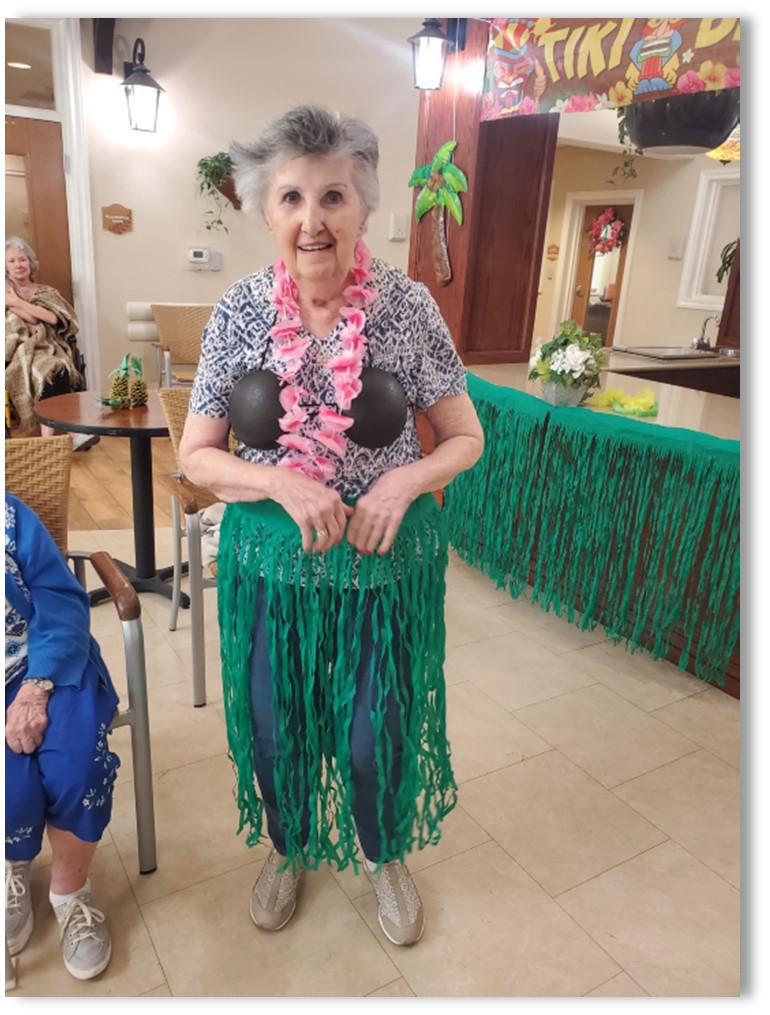 Everyone loved Thelma's luau outfit!
Be Fit Exercise Class
Grab an exercise noodle and take a chair. Our exercise class is in session everyday at 10:00 a.m. in the Atrium. This class is adequate for everyone. We do what we can but we do not give up! Join the Aravilla residents as we work our arms and legs. Our fun routines and up beat music make the exercise very fun. Happy faces are always welcome and grumpy ones too, we know how to turn those frowns upside down. See you in class tomorrow!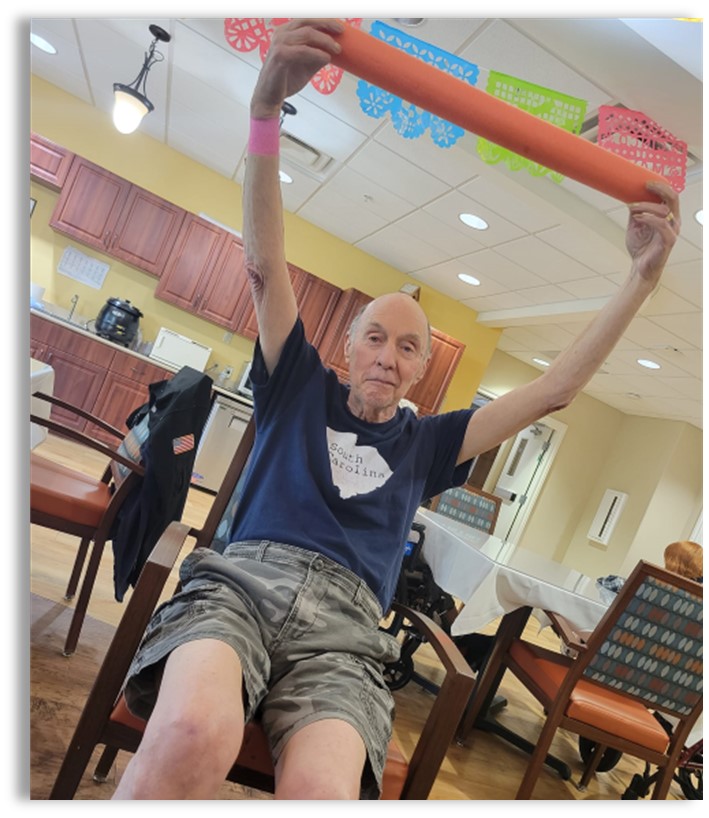 Stretching before your exercises is very important.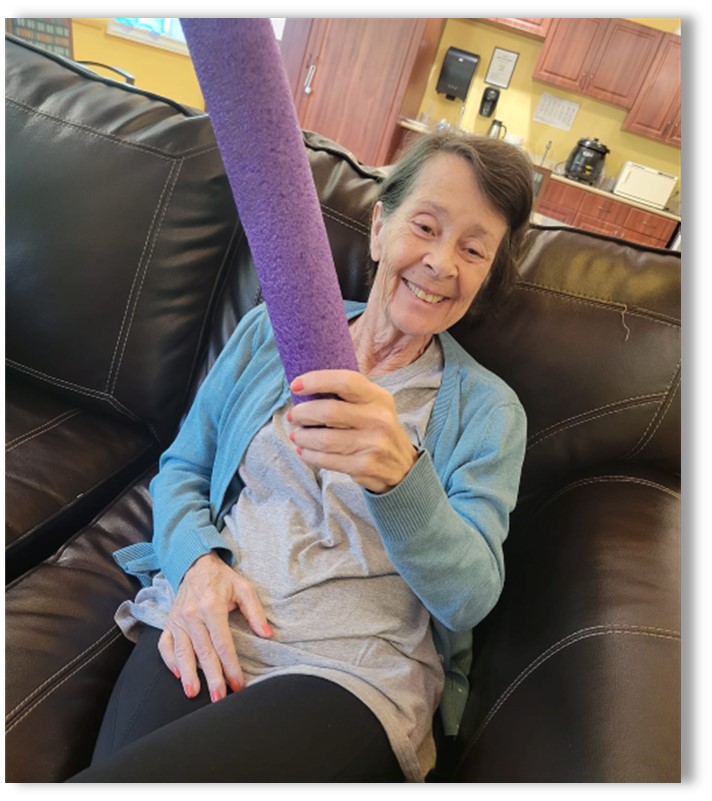 We love big smiles like Carols' at the exercise class.
Father's Day at Aravilla
All the cool dads came to the Father's Day celebration this past month. Our musical guest on this special day was Steve who played all of his tunes on this accordion. Tina and Nataly baked delicious golden soft pretzels with a cheese dip for everyone. We paired this tasty snack with an ice-cold beer. It wouldn't be Father's Day without presents for all the dads. The gift bags were decorated by our residents during art class. In the bag came sunglasses and a chocolate bar. Happy Father's Day to all!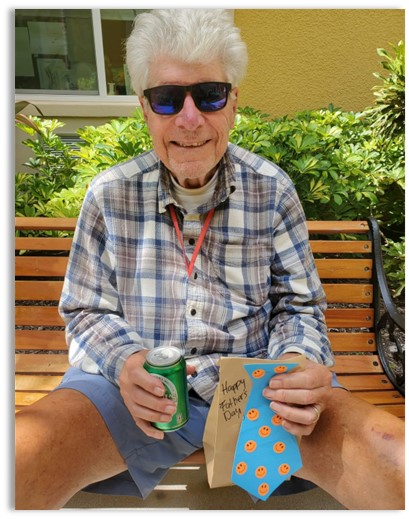 Here's Richard doing what he loves on Father's Day, sunbathing. The beer is just a plus.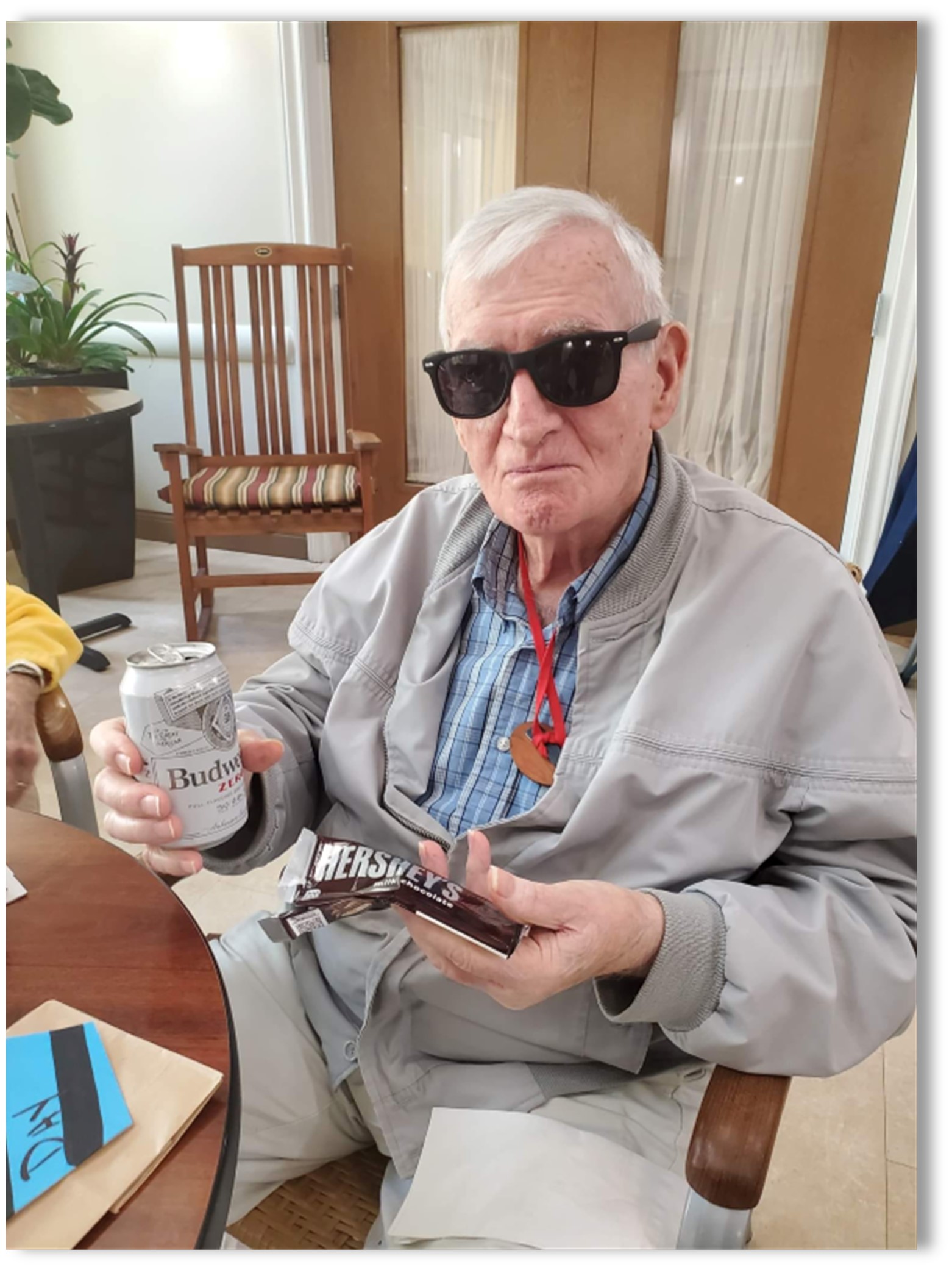 Chocolatey treats and new glasses for Father's Day.
JULY FUN!
Be Fit Exercise Class
Everyday
Atrium
10:00 am
Fourth Of July Cookout
July 4th
Noon
RSVP 941.444.9398
Hollywood Glitz Party
July 18th
2:00 pm
Atrium & Dining Room 3
Dancing Stars
Saturday July 16th
11:00 am
Atrium
Have you explored our website yet? Learn more about all our Aravilla communities, find upcoming public events and support groups, as well as our monthly resident activities calendar. You will also find local and national resources and be sure to browse the photo galleries and videos of all the fun we have here at Memory Care Aravilla Sarasota!
Questions about Memory Care or wish to tour our community?
Please call 941.413.5600 or click here to schedule a tour online.