A Month Full of Fun
September was a month full of many adventures. We went many places and ate lots of delicious foods. Our Lunch Bunch was on an empty stomach and craving something sweet. We decided to go get milkshakes and hotdogs or burgers. Everyone was pleased and full. Bob said "someone might have to roll us on the bus after that meal!" The rain does not stop us. Our bus was spotted on Siesta Key on a rainy day. We went to the village and stopped at a tourist favorite spot. The Mimi Donuts! They were delicious and fresh. We enjoyed them while they were still warm. We did stay home for other activities such as Dancing Stars. Dance class is always a full house. We enjoy having them so much. Everyone danced or tapped their feet to happy tunes.
Our Bus was spotted buying mini donuts in the Siesta Key Village.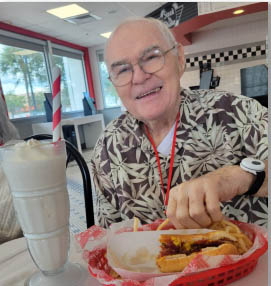 Bob had a huge milk shake and a chili dog on our Lunch Bunch outing.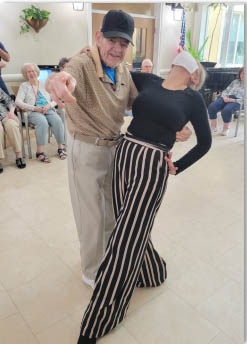 Tom and Elena put on a spectacular show for everyone at dance class.
Hurricane Ian hit Florida last month. The devastation it left behind to communities just an hour away was horrible. Aravilla is proud to have been able to help those who needed a place to stay during the storm. We sheltered many employees, their families and resident family member during the storm. We are thankful to have wonderful dedicated staff that worked around the clock to care for our residents and families.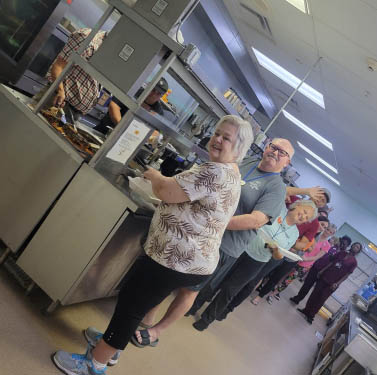 The lunch line during hurricane Ian was a long but happy one.
Our nursing department worked long hours and slept in shifts to make sure we always had care staff on the floor. Our maintenance men and housekeepers made sure we had extra room with available beds to accommodate all of our guests. The Dietary department cooked and fed and cleaned up three meals a day for all of our guests. Words cannot express how thankful we are to have such a wonderful team. Family members were also a big help. We played games, sang and danced together to keep each other busy. Thank you all for being good company. We are all blessed to have made it out okay during such a catastrophic storm.
Costume Pet Parade!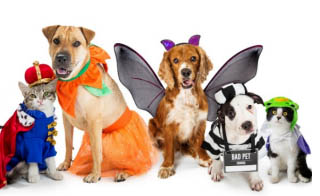 Halloween is almost here! This is one of our favorite holidays. We will be hosting a costume pet parade. We are asking family and friends for their help. We are asking for volunteers to bring their pets in costume.
This will be an outdoor event on Saturday the 29th at 10 am. All pets should be leashed and in costume. Please sign up with Diana by calling her at 941.444.9398 option 2. You may also do so at the front desk. We can't wait to see all the adorable pets!
October Fun!
Lunch Bunch Outing
Week 1- Olive Garden
Week 2- Culver's
Week 3– O'Leary's
Week 4– Park Picnic
Week 5- Mr. Tequila
Dancing Stars
October 22nd
10 am
Atrium
Pet Costume Parade
October 29th
10 am
Front Entrance
Halloween Bash
October 31st
2:00 pm
Wear Your Costume!
Have you explored our website yet? Learn more about all our Aravilla communities, find upcoming public events and support groups, as well as our monthly resident activities calendar. You will also find local and national resources, and be sure to browse the photo galleries and videos of all the fun we have here at Aravilla Sarasota!