Let's Cruise into August
All aboard the S.S. Aravilla this month for a virtual cruise through tropical locales. Our first show features Hawaii with ukulele master, Pesi, who will be performing on Friday, August 5. Our next stop is Key West with Paul & friend on Thursday, August 11. Watch your calendar for special cruise days such as turtle day, Hawaiian Day, Margaritaville & Jamaica Me Crazy!
Welcome Aboard!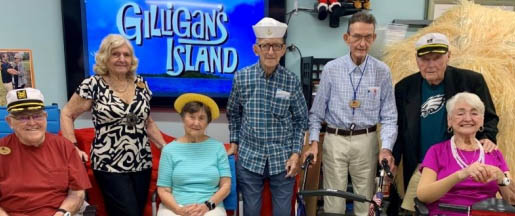 The cast from Gilligan's Island includes Tom as The Skipper, Jean as Ginger, Betty as MaryAnn, Al as Gilligan, Ross as Professor, Lamar & Joann as
Mr. & Mrs. Thurston Howell the 3rd
This month's cruise theme will include plenty of fun arts & crafts, music, trivia, food & drink from all of our Caribbean excursions. Please pick up your daily calendars near the Activities Studio to discover what fun we have up our sleeves for your entertainment.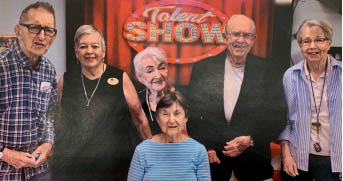 Talented Al, Phyllis, Joann, Betty, Wes & Annie
Our group of gifted residents put on a great Talent Show last month. Talents ranged from songs, art, dramatic reading, comedic skits, poems & even an art show. Thanks go out to our very special Activities Assistants; Jordan & Jeanette for organizing, rehearsing, practicing & filming the event.
Great job everyone!
Special thanks go out to our resident Candyman, Roland. Every day during our Happy Hour, Roland shares his stash of Lindor chocolates with residents, visitors & staff. His generosity has earned him the nickname "Candyman". We always look forward to a little afternoon treat to make our Happy Hour so sweet thanks to
you, Roland.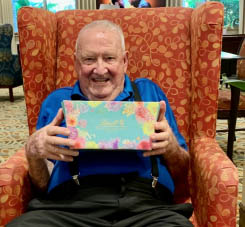 Roland & his Candy treats
Tropical Arts Extraordinaire!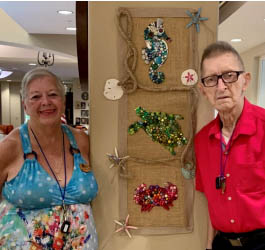 Phyllis & Al show off their creations.
Be sure to check out the beautiful tropical mosaics in the Atrium by our resident artists Phyllis & Al. They incorporated beads, vintage jewelry & crystals to create one of a kind sea creatures. All residents are invited to our Arts & Crafts classes to relax, learn new skills, create & discover their own hidden talents.
August Big Events!
Monthly Excursions
Monthly Excursions
Publix/Walmart
Walgreen's/CVS
Sunday Church Service
Barnes & Nobles
Library
Michaels & Marshalls
Restaurants:
Turtle's
Lotsa Lobster
Gilligan's
Hooter's
Tiki Ba
Make a Wish
Tuesday, August 2 2PM
Welcome Aboard!
All Donations go towards
Make-A-Wish
Foundation
Meetings
Meetings 10:30 AM
Resident Council
Tues., August 9, 2022
Sunshine Club
Tues., August 16, 2022
Film Committee
Tues. August 23, 2022