Love is in the Air!
Happy Valentine's Day everyone!
We have a special day planned for you this year. The party begins at 1:30 pm with a visit from our local car enthusiasts from The Antique Auto Club of America. You may visit & check out these vintage beauties, take a photo in them & talk to the car owners about their history. The car show will be followed by the monthly tea party & a piano concert of Love songs by pianist Peter Solomon.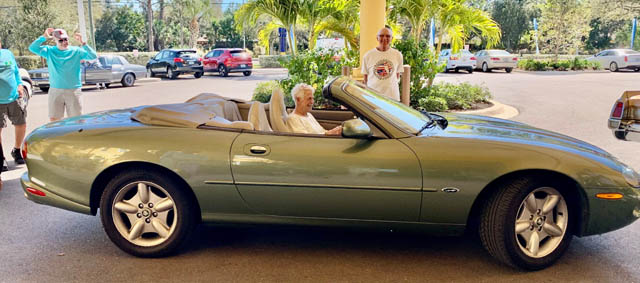 Maggie checks out this sweet ride at the Vintage Valentine Car Show
Leonard, Elaine, Jean, Dori, John, Mary Adrienne, Jeanette, ,Phyllis, Priscilla, Stella & Fred enjoy Turtle's .
Last month our residents went out to four wonderful Sarasota restaurants. One of the favorites is Turtles. It has a beautiful view and delicious entrees. We love taking our residents out for meals and fellowship with each other. In February, check out the excursions to many fine establishments including Alpine Steakhouse, Rendez-Vous French restaurant & bakery, Dry Dock overlooking Sarasota Bay & Café Amalfi,. If there's a special restaurant or excursion that you'd like to visit, we are always open to suggestions. Yes, there's something for everyone, so be sure to join us soon.
Art is too important to not share!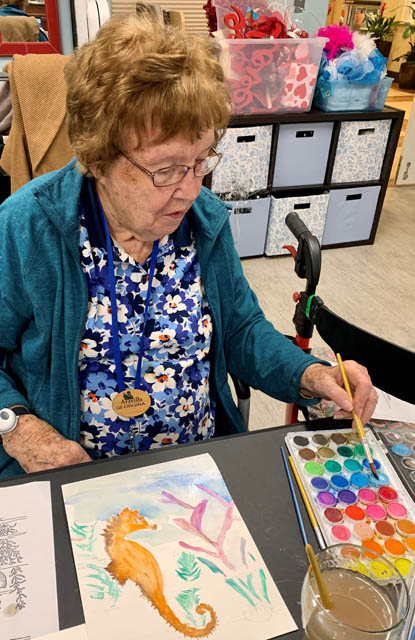 Georgina tries her hand at watercolor
At Aravilla, we feel that art is an important part of our overall vision of mind, body, spirit. That's why our assisted living community offers fine art classes every week in all types of media including; but not limited to watercolor, acrylics & glass mosaic. Our subjects can range anywhere from sea life & nature, abstract & realism. Our classes incorporate art history & videos highlighting artists, techniques & inspiration. As part of our art program, we also offer regular trips to museums & local art exhibits to experience first hand the rich culture of the Sarasota area We invite you to try something new, something you've never tried before & expand your horizons. All are welcome to visit the studio & observe the art classes, participate or suggest another project.
Benefits of Water Aerobics for Seniors
Reduces Arthritis & Joint Pain
Increase Flexibility & Balance
Decreases Bone & Muscle Loss
Improves Cardio Strength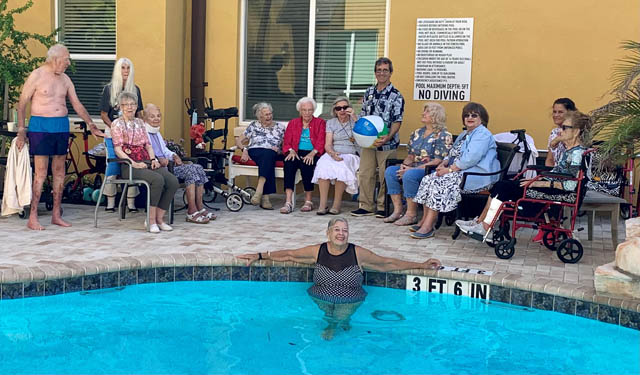 Myles enjoys his Italian
Margarita at Olive Garden
Your One Stop Beauty Shop!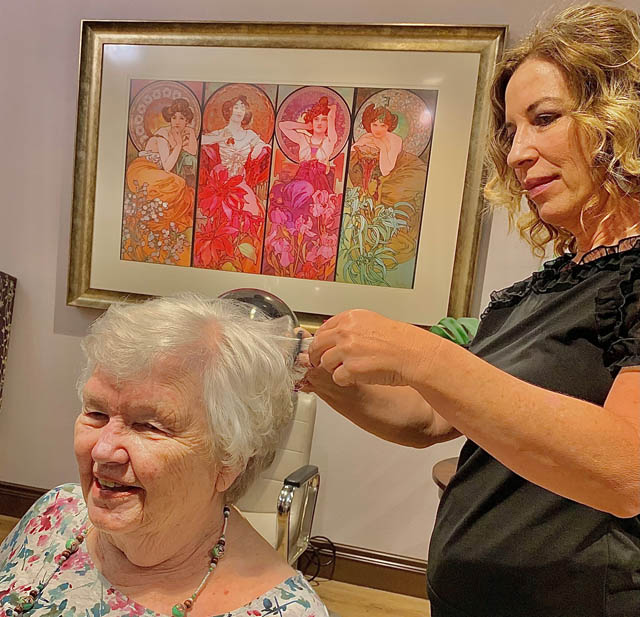 Barbara gets a new doo from Dee
Did you know that Aravilla has it's own on site Beauty Salon? Our own talented Dee does an amazing job with men & women's hair cuts & more. From shampoos to perms, haircuts & blowouts she's your girl! The salon is located next to the Atrium & is open daily Tuesday, Wednesday & Thursday. To make an appointment, just check in at the salon from Tuesday to Thursday.
February Big Events!
SPECIAL OUTINGS
Alpine Steakhouse
Rendez-Vous Restaurant
Dry Dock Waterfront Grill
Café Amalfi
Detwiler's
Selby Gardens
Charity Tea Party
February 14
All Donations go towards Charities
Special Date:
Tuesday, Feb. 14
VINTAGE VALENTINE CAR PARADE