Happy New Year 2023
Our residents all agree that Aravilla knows how to throw a party & our New Year's party was no exception. We started out with an exceptional array of appetizers & desserts & of course, we imbibed on some refreshing new year cocktails. Our entertainer was exceptional with fun, upbeat songs to celebrate the coming of the new year. Then the dancing began! The best part of the celebration was being with good friends, being healthy & enjoying life.
Happy New Year to All!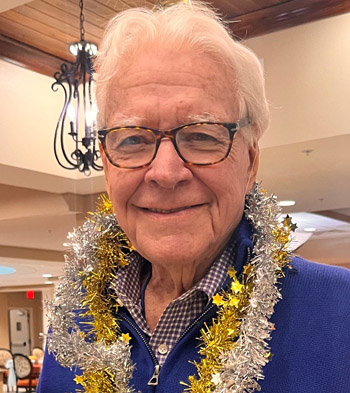 Myles & Fran dancing to the music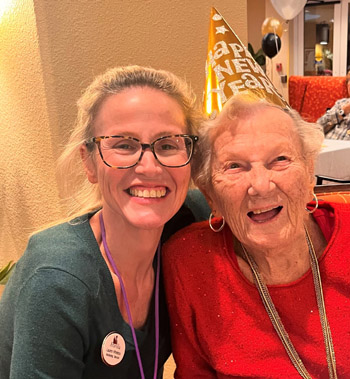 Lauren parties with Myrtle
What's Your New Year's Resolution?
Al makes his New Year's Resolution
A resolution is simply a promise to yourself to get something done, ideally along with a plan to make it happen. A resolution can be a goal that you set informally and keep private, or you can share your goals and plans with other people. While your life might look different now than it did when you were younger, it's never too late to set goals and improve yourself. Our new year's resolutions will prove that you don't ever have to settle for things the way they are. You still have the power to improve your life, your future, and yourself, no matter what stage of life you're in.
January is a Winter Wonderland, even in Florida!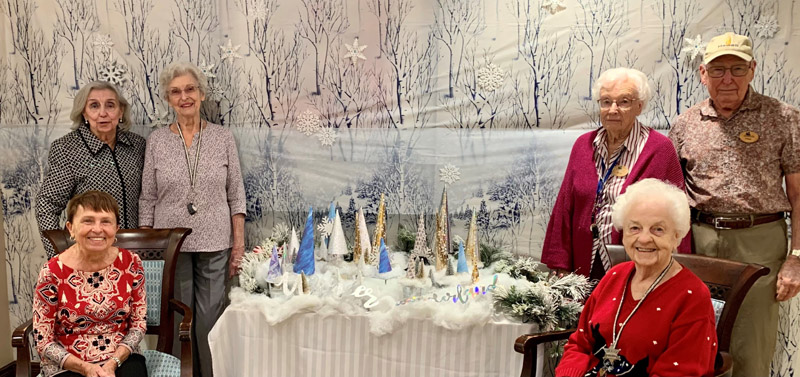 Front: Mary & Dorothy, Back: Angela, Gloria & Paul with our virtual Winter Wonderland Scenery,
Did you know? Forty-five years ago, snow fell in Florida, turning the Sunshine State into a winter wonderland. Snow was reported as far south as Miami. Luckily, this year, we had a chilly Christmas day and now temperatures have popped right back up into the 70's where it belongs!
Dinner is better when we eat together
Have you joined us on one of Lunch outings lately? We go to some of the best restaurants in town. Last month, one of the many establishments that we visited was Olive Garden. A record 15 senior residents had a festive holiday meal along with lots of conversation & laughs. If you have a favorite watering hole that you would like to visit, please let us know & we'll be happy to add it to the schedule. Buon Appetito!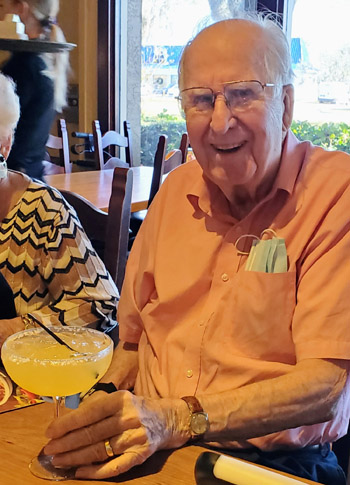 Myles enjoys his Italian
Margarita at Olive Garden
January Big Events!
SPECIAL OUTINGS
First Watch Restaurant
Millie's Restaurant
Turtle Beach
Restaurant
Tiki Bar Lunch
Bealls Outlet
Shopping
Ollie's Shopping
Walgreen's
CVS
Make a Wish
Winter Wonderland Tea Party January 10
All Donations go towards Make-A-Wish Foundation
Special Dates
Chinese New Year Celebration
Friday January 20