Summertime & the Livin' is Easy
We all screamed for Ice Cream at last month's Ice Cream Social. We were able to choose from a variety of ice cream flavors and toppings to create the perfect summer treat. Your generous donations for Make-A-Wish Foundations totaled $180.00! Ross, Stella, Barbara, Judy, Naomi & Jeanette enjoyed the social.
The first official Aravilla Spelling Bee took place in June, 2022. We had 9 great spellers that competed for prizes & the championship title. After a tough battle, Julie Horne was named as 2022 Aravilla Spelling Bee champion! All competitors had a great time & went away from the contest with a bag of parting gifts.
Julie proudly displays her trophy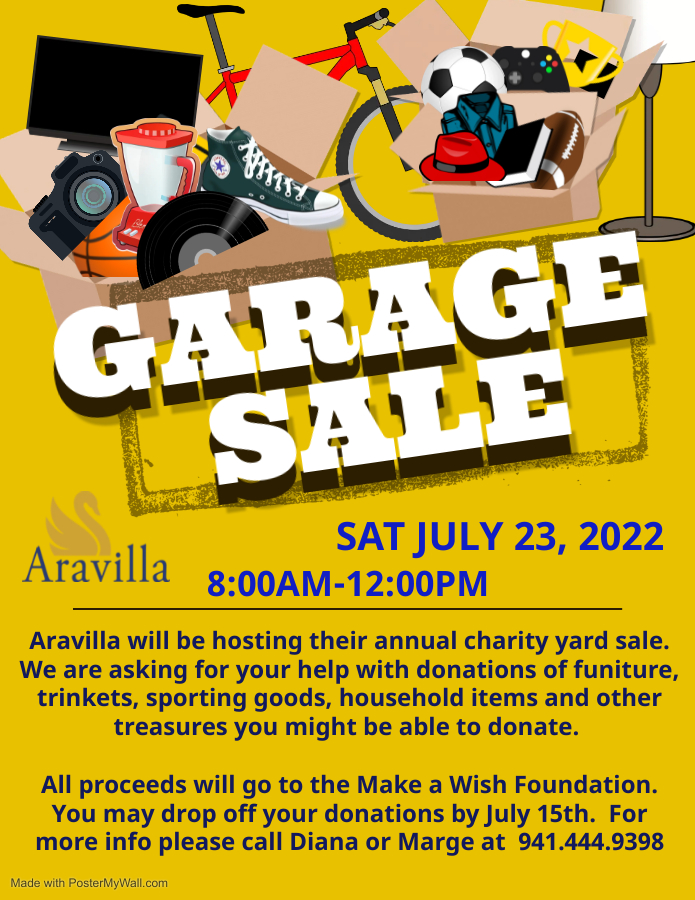 Be sure to mark your calendar for Saturday, July 23, 2022 for our 2nd annual Aravilla Yard Sale.
We will offer everything including furniture, trinkets, jewelry, sporting goods, kitchen utensils, artwork, pillows & décor for unbelievably great prices. We are offering coffee & donuts for breakfast & hot dogs & soda for lunch for a small donation. If you are new to Aravilla & would like a tour of our beautiful Sarasota facility, please see one of our friendly associates to make an appointment or schedule a tour online.
C'mon by & Shop til you drop
C'mon in, The Water's Fine!
Be sure to join us for weekly Water Aerobics on Mondays & Thursdays. Coming up is our 4th of July Pool Party Celebration on Monday at 2pm, followed by a visit by The Kona Ice Truck for some cool holiday treats.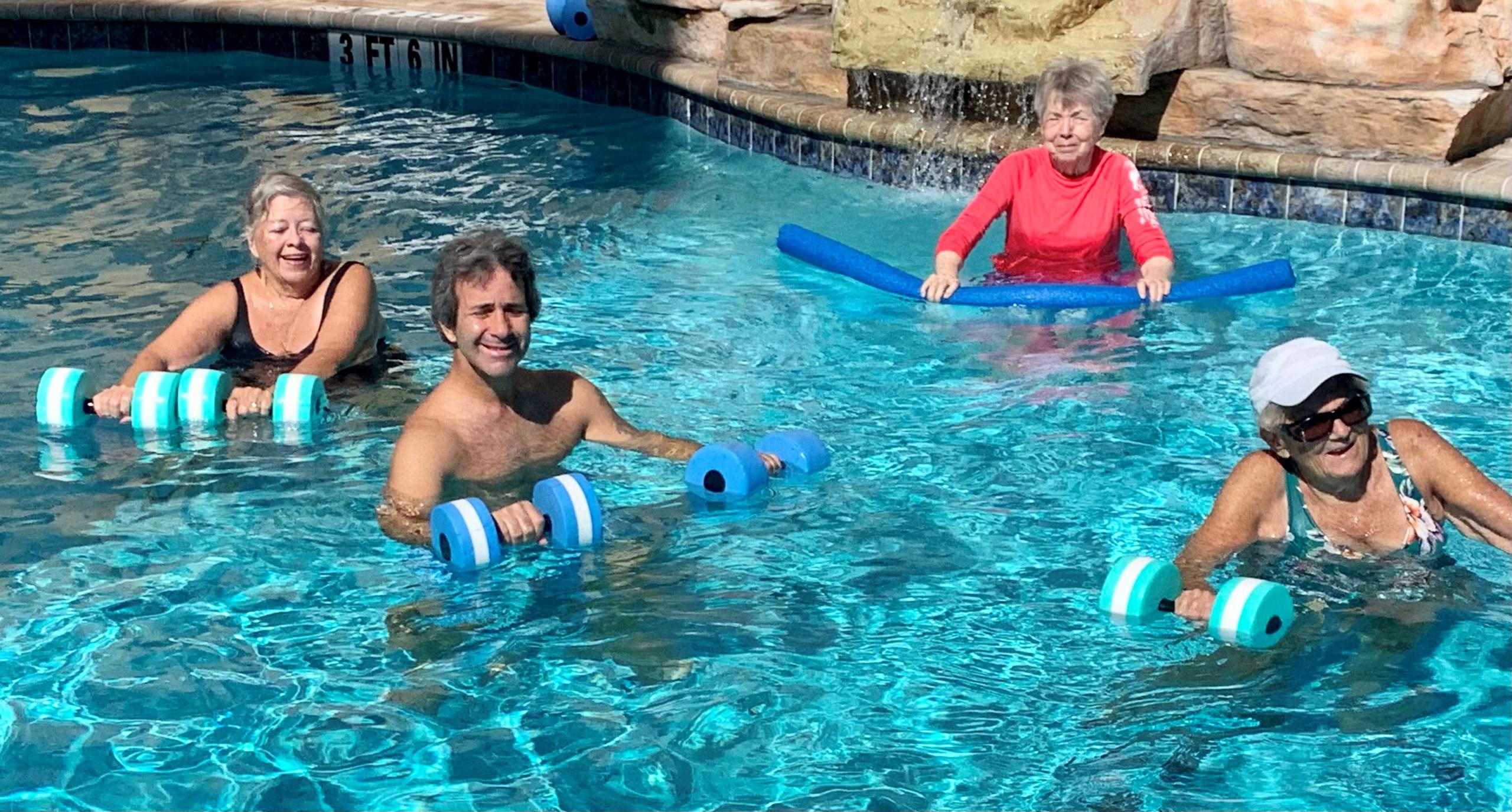 Phyllis, Frank, Annie & Myrtle enjoy pool aerobics.
Remember, your pool is open for free swim every day, so be sure to enjoy our beautiful Florida summer!
Paul, Gloria, Paul, Phyllis, Judith & Frank enjoyed their tour of the famous Ringling Museum.
Aravilla Outings are the Best!
Be sure to join us soon for a great excursion around town. We now have over 15 trips this month to local restaurants, museums, parks, beaches and stores. Check out this month's schedule & sign up in the Activities Studio to join us for trips to the grocery stores & pharmacy, banking, coffee shops & restaurants. It's a great time to enjoy summer & explore all the amazing spots in our beautiful city.
July Big Events!
Monthly Excursions
Publix/Walmart
Walgreen's/CVS
Bamboo Gardens
Dunkin Donuts
Starbucks
Chili's/Tiki Bar
Kona Ice Truck
Marietta Art Museum
Gecko's
Dollar Tree
Sunday Church Service
Make a Wish Yard Sale
Saturday, July 23, 2022
8 AM-12 PM
All Donations go towards
Make-A-Wish
Foundation
Meetings
Meetings 10:30 AM
Resident Council
Tues., July 12, 2022
Sunshine Club
Tues., July 19, 2022
Film Committee
Tues. July 26, 2022
Have you explored our website yet? Learn more about all our Aravilla communities, find upcoming public events and support groups, as well as our monthly resident activities calendar. You will also find local and national resources, and be sure to browse the photo galleries and videos of all the fun we have here at Aravilla Sarasota!