Grateful, Thankful & Blessed
Grateful living directs us toward what matters, what is meaningful, and what will make a difference in the hearts of those with whom we are navigating this lifetime.
We are so grateful for the opportunity to serve our residents at Aravilla Assisted Living. This year was especially challenging with reoccurring Covid infections followed by Hurricane Ian. But we are 'Aravilla Strong' and we turned the challenges into opportunities. We invited family members, along with their four-legged friends, to ride out the storm at our assisted living community. Our staff, as always, rose to the occasion and gave a warm welcome to all of our guests, as well as providing top notch care for our residents. All departments worked diligently as a team to contribute to the fun, games, music & relaxed atmosphere to make everyone feel at home.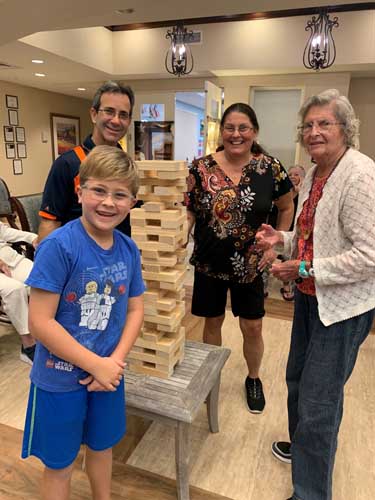 Frank, Ina, Naomi & young Ty play Jenga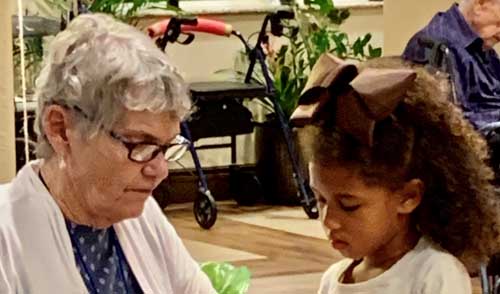 Sue teaches Amyra to crochet
There's no place like HOME for the Holidays
As we gear up for the end of the year holiday festivities, we take time to reflect upon the year past. We are so grateful to have this HOME. Our Health, Others to share our lives with, our Minds & Enjoyment of life. At our assisted living community, we offer exercise & sports to keep healthy, have great social get togethers such as monthly tea parties & daily happy hours. We keep our minds fit with daily word games, history programs, bingo & other table games. We enjoy each others' company when we take excursions or go out to lunch. During the holidays, we will offer special holiday trips as well.
At Aravilla Sarasota Assisted Living, we are family & hope to create a comfortable "feels like home" atmosphere.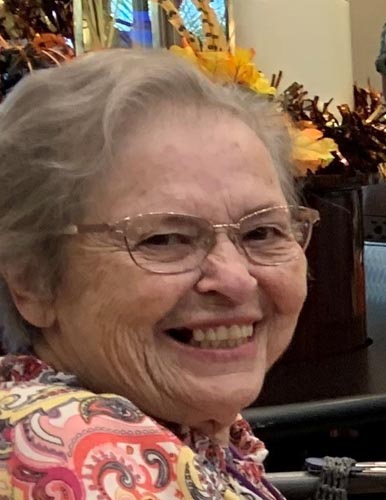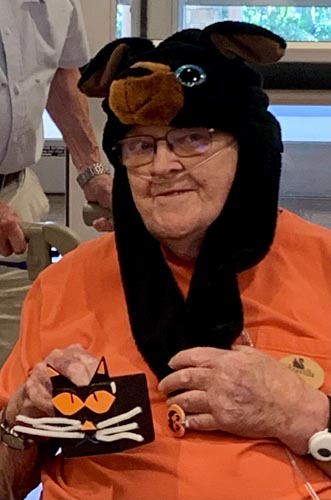 Julie & Barbara enjoy a Spooky cocktail
Aravilla Residents are Extraordinary!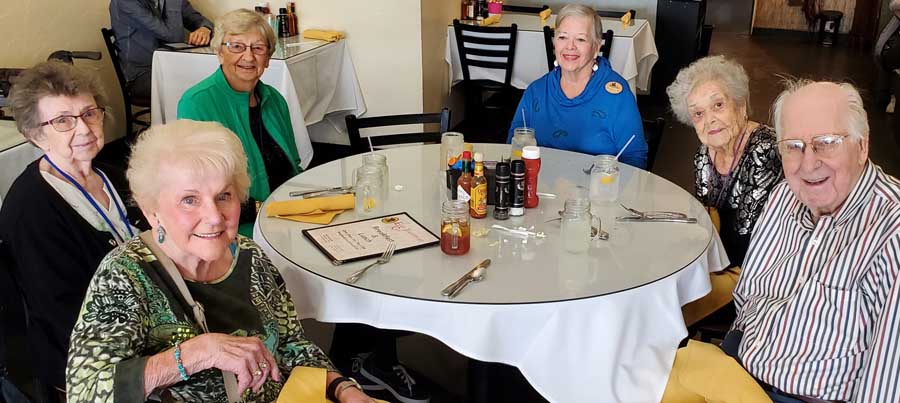 Stella, Fran, Jeanette, Phyllis, Adrienne & Myles enjoy their lunch outing to Eggstraordinary Restaurant
"Happiness is a warm puppy"
–Charles Schultz
The companionship of a pet can be an invaluable tool bringing purpose and engagement for people of all ages, and especially for seniors. Spending time with a
pet is a powerful way to combat loneliness and isolation, bringing comfort and companionship while reducing stress and promoting overall health and wellness. Learn more about pet therapy and how it can improve the lives of seniors. That's why at Aravilla Assisted Living, we include Pet therapy on a regular basis. We encourage those with gentle pets to visit as well as having The Cat Depot bring in cats available for adoption to socialize with our residents.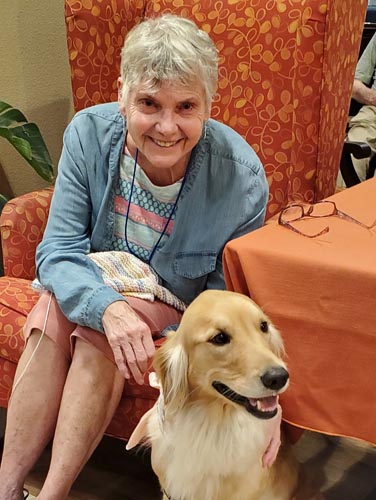 Sue visits with our Pet Therapy pup, Nellie
November Big Events!
Special Outings
Thurs. Nov 3 11:30 am
OPUS Restaurant
Thurs. Nov. 10 11:30 am
Connor's Steak House
Mon. Nov. 14 1:00 pm
SELBY ORCHID SHOW
Thurs. Nov. 17 10:30
CAFÉ AMALFI
Make a Wish
Thankful Tea Party
Tuesday, Nov. 8, 2 PM
All Donations go towards
Make-A-Wish Foundation
Meetings
Meetings 10:30 AM
Resident Council – Tuesday November 8, 2022
Sunshine Club -Tuesday November 15, 2022
Film Committee – Tuesday November 22, 2022