Deck the Halls
The Holidays are here! Our Christmas Trees are up and decorated, all 6 of them to be exact. We had such a wonderful time decorating our trees and singing Christmas carols as we did. Our lobby tree is so big and tall that we needed help putting it together and decorating the top of it. Lucky for us, we had lots of help from the Aravilla maintenance crew who helped the ladies fluff and decorate the top of the trees. It truly is the most wonderful time of the year. We are excited to enjoy all the festivities that come with the season.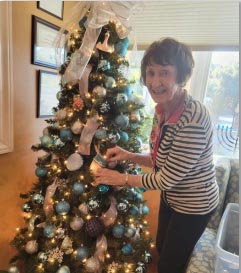 Suzy was thrilled to help decorate the lobby tree. She did a great job.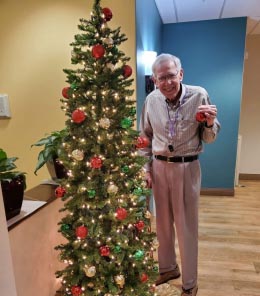 Don was a wonderful helper.
Spread the Holiday Cheer!
The Holidays are officially on their way. Every year we hold our porch decorating contest at Aravilla Memory Care. This year is no exception. The residents and their families decorate their personal front porches or doors. Everyone is excited to get their creative juices flowing and use their years of festive tree trimming experience. A winner is chosen by staff and visitors at the Employee Christmas party on the 16th. There will be a winner from each floor. Families of our senior residents are encouraged to help decorate because this help spread the holiday spirit. We look forward to seeing all the beautiful and creative ideas on each of your porches. Happy Holidays!
We have all heard the expression "use it or lose it". It could not be truer when it comes to keeping your muscles toned, especially as a senior. Muscle mass starts to decline at a rate of 1% per year after the age of 40. The good news is, you can slow down that decline and build muscle mass well into your later years.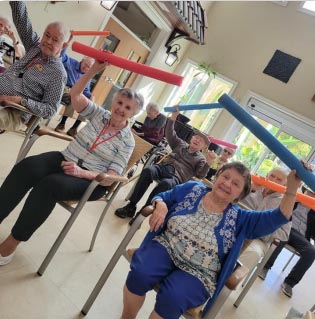 The best routines use repetitive movements, 10 to 12 times each, called a set. It is recommended to perform 3 sets each session. We invite memory care residents to come to our exercise class held every morning at 10:00 am in the Atrium. Everyone is welcome. It is not only good for you, but also very simple and most of all fun.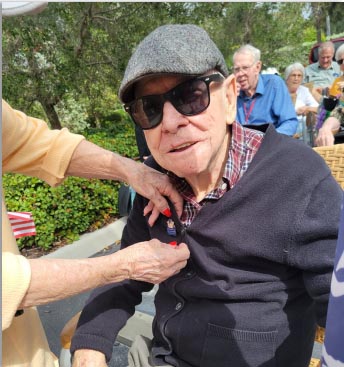 Army veteran Joseph receives his pin.
This past November 11th Aravilla honored their veterans. Our community is honored to have many veterans living right here at Aravilla Sarasota. We have members of all branches of the military. It was our pleasure to honor them on this special day. We started the day with an outdoor ceremony. Our senior residents quickly crowded the seats in front of the American flag.
We said the Pledge of Allegiance and sang the National Anthem. One by one our veterans introduced themselves and told us which branch of the military they served. Our veterans were gifted beautiful custom made pins made just for them. The other residents along with staff and family members in the crowd thanked them for their service as we finished the ceremony with a patriotic sing-a-long. Once again THANK YOU for your service.
December Fun!
Tour of Christmas Lights
December 5 & 6, 6 pm
Dancing Stars
December 10th, 11 am
Christmas Party
December 13th, 6 pm
Holiday Movie Night
December 19th, 6 pm
Dinign Room 2 and 3
Employee Holiday
Christmas Party
Gift Exchange
December 16th, 2:00 Atrium