Aravilla Activities
Happy New Year! We want to start the year off on the right foot with lots of fun activities for all. Our exercise class will remain at 10 am everyday as well as music hour at 2 and 3 pm. Tuesdays we look forward to seeing our friend Phil and his friends for Forget Me Not Ministry at 11am in the atrium. Our Mystery Bus trips will now be on Wednesdays and our weekly Lunch Bunch outing on Fridays.
This month we will have special celebrations such as the Chinese New Year, Strawberry Ice Cream Day, International Thank You day and family trivia night. Be sure to keep up with our calendar for times and dates.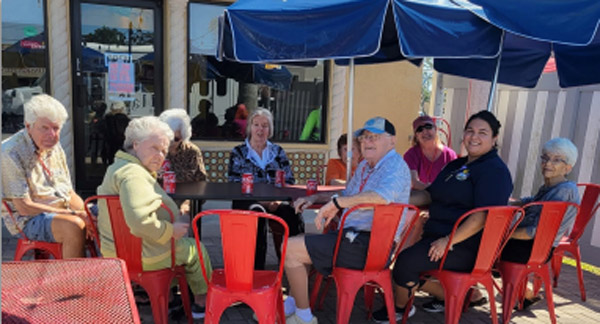 The Lunch Bunch Crew at Rincon Tolteca
New Year's Hair Resolution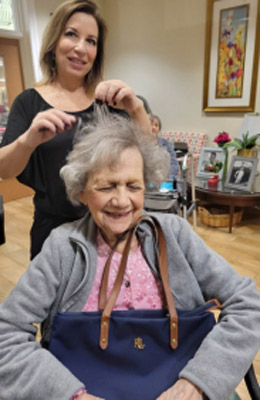 More gorgeous hair in 2023! The start of the new year is a great time to refresh your look and get hair healthier! Our wonderful hair dresser, Diane, offers men's and women's haircuts, colors, perms, sets, and styles. If you have a special event or are just looking to pamper yourself, we invite everyone to stop by her salon for an appointment. Walk-ins are always welcome, too. To make an appointment you can stop by the salon and speak to Diane in person or contact her at tykor7@Outlook.com. Diane thanks everyone for their generous holiday tips and gifts. They are very much appreciated. Thank you!
Holidays at Aravilla Memory Care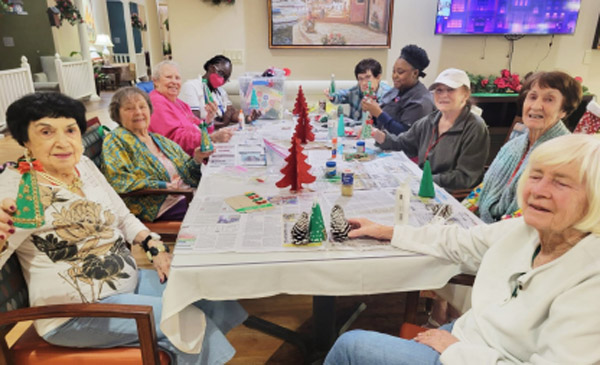 We had a busy holiday season at Aravilla. We started the month off by going out to see the Christmas lights displays around town. On the Tour of Lights, we admired the incredibly decorated neighborhoods complete with fake snow and a Candyland-themed house as we sang Christmas Carols on the bus. This month we also gathered with hot chocolate and marshmallows to watch holiday movies. The Resident Holiday Party gave our residents a chance to mingle while enjoying live music with Joey and Bill. We served many tasty desserts such as brownies and cheesecake. As always, a very jolly Santa came to our party along with the beautiful Mrs. Clause and a happy elf. We enjoyed cookies and eggnog at the Employee/ Resident Holiday Party. In the gift exchange the residents received cozy, fuzzy holiday socks, Aravilla hats and yummy chocolates. The employees also received a Christmas gift from the residents and their families. Carol called all of our employees one-by-one and we applauded each and everyone of them as they received their gift. To kick off our fabulous new year, the residents were feted with champagne and a Noon Year's Eve countdown to 2023! We are looking forward to a wonderful and busy 2023 at Aravilla.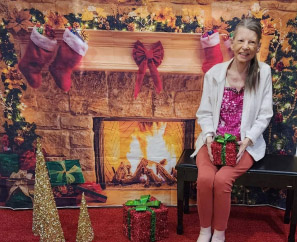 Patricia poses for her holiday picture.
Betty and Santa's crew at the party.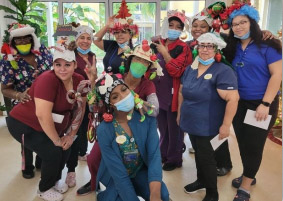 Betty and Santa's crew at the party.
January Fun!
Lunch Bunch Outings
Week 1 Panera
Week 2 Long Horn
Week 3 Olive Garden
Week 4 Keke's
Week 5 Culvers
Forget Me Not Ministries
Tuesdays 11 am
Chinese New Year Party
January 22nd 11 am
Family Trivia Night
January 24th 6 pm
Atrium